whoohoo.co.uk Finalist at Yell.com/Awards 2001
4th October 2001








Forget the Baftas and the Brits - the Yell.com/Awards 2001 Ceremony, dubbed the UK Internet Oscars, was one of the hottest events of the year. Attracting a record number of nominations, UK Internet users voted for their favourite websites in twelve categories varying from Best Finance Site to Best Funny, Charity and Commerce Sites.
Following the close of nominations, the best sites were whittled down to a final shortlist. An elite panel of media judges then embarked on the unenviable task of choosing the ultimate winners.
After thousands of nominations, Yell.com announced that whoohoo.co.uk was one of six sites shortlisted in the Best Funny Site category at the Yell.com/Awards 2001 – the people's choice of the 'best on the Net'.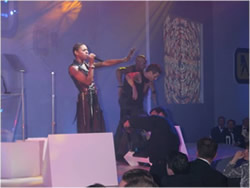 Sonique performs at the ceremony

John Condron, CEO of Yell, said: "It's been another great year for the Yell.com/Awards with an incredible 50% increase in nominations. The Websites that have been shortlisted in the Best Funny Site category should be proud of this achievement - they truly do represent the people's choice of the best on the Net."

This year's winners reflect the true spirit of the internet, rewarding the people's choice of the 'best on the Net'. Big names such as the internet bank, Egg won Best Finance Site and bbc.co.uk won Best Media Site.

The winners were revealed on the 3rd October at an exclusive ceremony hosted by Graham Norton at the Atlantis Gallery in London. Sonique and Talvin Singh performed at the star-studded ceremony and guest presenters included Nell McAndrew, Anthea Turner, Simon Shaw, Vanessa Feltz, Adrian Mills, Jonation Maitland, Esther McVey, Otis, Caryn Franklin and Mark Lamarr.

Unfortunately whoohoo.co.uk lost the top prize to Cadbury's Timeout. Even so, it was great to be recognised by the industry, along with big names such as BBC, Sainsburys and egg.com.